May 21, 2023
Are you ready to have some fun and raise some funds for Project 10
20's next season? We're excited to announce this year's Olathe Ford Golf Tournament on Sunday, May 21st benefitting Project 10
20! Register yourself or your team soon using the  QR code on this attached flyer! Then grab your clubs and join us for this great event!!
April 1, 2023
We just finished our 8th season of providing cold weather shelter to persons experiencing homelessness in Johnson County! We are so very grateful for the volunteers and donors who helped make this happen! We were at capacity every night since December 3, sheltering about 250 unduplicated persons from December 1, 2022 thru March 31, 2023.
December 31, 2021
After almost a full month delay due to construction to meet city code, Project 10❤️20 was finally able to open its doors to its guests.  Updates for this season included changing the hours of operation from 7p – 7a to 6p – 8a, extending the time each day that guests are warm and inside the shelter by 2 hours.  Also, new fire safety changes are in effect along with updated bathrooms which now include showers and ADA compliant stalls.  We are continuing to fill up to 30 cots every night and serve a full dinner for 45+ guests and workers.
October 20, 2021
The Peace Poles Community Art Project — a series of poles designed by community members and adorned with original art and messages of peace — has been on display in Lenexa's Sar-Ko-Par Trails Park. The purpose of the exhibit is to inspire peace, hope, creativity, and community involvement.
The Peace Poles Community Art Project is organized as a partnership between the Lenexa Rotary Club, Rotary Club of Western Johnson County, the Lenexa Arts Council and the City of Lenexa. Sponsors include Kiewit and Commerce Bank. A panel including art professionals judged the entries in May, and awards were announced at a ceremony in Sar-Ko-Par Trails Park.
After the exhibit ends October 31, the Lenexa Rotary Club and Rotary Club of Western Johnson County will sell the peace poles during a silent and live auction on Friday, Nov. 12, 2021, from 6 to 9 p.m. at Lenexa City Hall to benefit Project 10❤️20! Auction sponsors are Kiewit, Gill Studios, and GBA Builders.
October 10, 2021
Olathe Ford's annual Golf Tournament this year benefitted Project 10❤️20! Sign up to play or donate at www.OlatheFord.com/golf.
August 10, 2021
Project 1020 is so grateful to be the beneficiary of the 2021 Kurlbaum Tomato Chef Dinner, featuring Kurlbaum's famous Heirloom Tomatoes and prepared by Chef Alex Staab, hosted at the North Kansas City Chicken and Pickle.
June 1, 2021
We're excited to announce a new addition to Project 10❤️20!! Jeff Smith has come to us from a career of many years in the tech industry to follow his passion to serve those without shelter who cross our path. Even before he became our full-time case manager, Jeff drove one of the vans every single morning for three full seasons, getting to know so many who had slept at the shelter the night before.
We're fortunate to have received the donation of a perfect space on Santa Fe in Olathe, where Jeff offices and clients stop in for appointments (and a piece of chocolate Barb keeps on hand!) Two Surface Pros have been donated for clients to use for resumes, applications, job searches, etc.
Providing case management for those experiencing homelessness is a long-time goal of Project 10❤️20. Jeff meets each person on an individual level – right where they are – to help them achieve their goals! We are quickly seeing how important this unique service is to improving the lives of our clients! Thank you, Jeff, for your kindness and care on behalf of Project 10❤️20!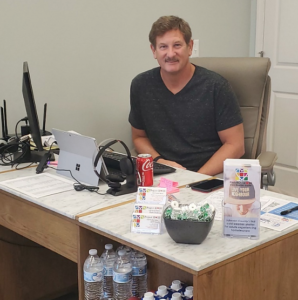 March 17, 2021
The Lenexa City Council voted to pass an ordinance approving amendments to multiple sections of the City's Unified Development Code to address homeless shelters at its March 16 meeting. Draft code language was reviewed by the Governing Body at Committee of the Whole meetings on Jan. 26, 2021. The Planning Commission voted to recommend approval of the code amendments at its March 1, 2021 meeting.
The new code now makes provision for a homeless shelter as an accessory use to a church up to a maximum of 30 guests subject to specific criteria, up to 10 guests with fewer criteria, and with a Special Use Permit in certain commercial zoning districts.
Project 1020 is looking forward to continuing operating its shelter in the coming winter in the Shawnee Mission Unitarian Universalist Church upon its receipt of the required new certificate of occupancy.
December 1, 2020
OPENING DAY!! At 6 p.m. tonight, our van began its route to pick up Guests and bring them back to the Shelter for the first night of warmth, comfort, and a hot meal. Our seasoned as well as new volunteers are making this all possible.
Many extra volunteer efforts went in to preparing the space to minimize risk of COVID –
Creative planning and floor spacing to maximize distance between cots and dining chairs

36 newly-constructed dividers between cots

shields for check-in, serving, and dining tables

donated masks, gloves, hand sanitizer, cleanser
The Project 10❤️20 Community Rocks!
November 10, 2020
Shawnee Mission Unitarian Universalist Church is completing several maintenance projects to the wing of their building used by Project 10❤️20. SMUUCh has been such a gracious host for our Guests!
For example, dedicated SMUUCh volunteers decided the child-height toilets should be raised up for adult conveniences, which will be ever so much appreciated by our Guests! SMUUCh-ers have figured out the maze of plumbing in their building to ensure hot water flows freely in our dining area! And, they installed a wi-fi repeater so that Guests and Volunteers have better access to the internet, especially enabling us to use a computer for a more sanitary check-in rather than a paper/pencil process during this time of COVID.
We can't thank them enough!​
September 2020
Project 10❤️20 is thrilled the City of Lenexa has extended the approval for our shelter to operate through this season, even if new ordinances are adopted before April 1! Thank you from the bottom of our hearts!
As you might remember, the City's regulation process was suspended in March due to COVID. It was revived this summer and several of us attended the "Committee of the Whole" meeting on August 25. There the Lenexa staff presented some ideas for future regulation related to homeless shelters, the community was able to offer comments, and the Council asked questions and commented as well.
Check back here for additional news about the process.
2019
We are proud of Barb McEver, who received the 2019 Citizen of the Year Award from United Community Services of Johnson County. Barb is a Project 10❤️20 co-founder and has devoted her life to serving the homeless.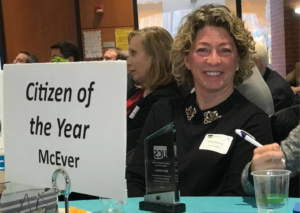 Let's Make A Change

Here are some ways you can make a tax-deductible donation: